Heure(s) de l'événement
#Dilami
Durée
Au Musée des Abattoirs, Toulouse
Event location
Jusqu'au 6 mai 2019
Qui sont les migrant·es dont on parle tant dans la presse et les discours politiques ? Comment voient-ils·elles le monde ? Que ressentent-ils·elles ?  Comment vont-ils·elles ? Sont-il·elles si différent·es de nous ?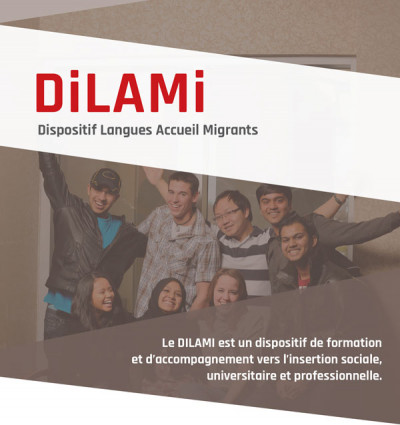 Cette exposition est le fruit de la rencontre entre la photographe Mariana Lara et les étudiant·es réfugié·es et demandeur·euses d'asile du DILAMI : Dispositif Langue Accueil Migrant·es, Université Fédérale Toulouse Midi-Pyrénées.
En français, cette langue qu'ils·elles sont en train d'apprendre et de s'approprier, ils·elles partagent avec nous leur histoire, leurs projets, leur sensibilité et leurs rêves.
> En savoir plus sur le dispositif DILAMI
          الصورُ التي هُنا، هي للقادمينَ من أماكنٍ أُخرى

   من همْ-هنَّ المهاجرينَ والمهاجراتْ الذينَ نتكلمُ عنهمْ كثيراً في الصحافةِ والحواراتِ السياسية ؟
كيفَ هم يَرونَ العالمَ ؟ بماذا يشعُرون ؟ كيفَ هي أحوالهمْ ؟ هل همْ مختلفينَ عنا كثيراً ؟
    هذا المعرضُ هو ثمرةُ التعارف بينَ المصورة مارينا لارا و طالبين اللجوء، والطلاب اللاجئين في برنامجِ ديلامي
( كادرُ تعليم اللغة لإستقبالِ المهاجرين- التابع لجامعة الفيدرالية في تولوز منطقة ميدي-بيرِنيه.)
    إن اللغةَ الفرنسيةَ التي يَتعلَّمونها لتوِّ بُغيةَ إتقانها، هي صلةُ الوصلِ لكي يُشاركوننا قِصَصَهمْ، مَشاريعهمْ،  أحاسِسهمْ و أحلامهمْ المُستقبلية.

Retratos de aquí, venidos de allende

¿Quiénes son los·las migrantes de quienes tanto se habla en la prensa y en los discursos políticos?  ¿Cómo ven el mundo? ¿Qué sienten? ¿Cómo se sienten? ¿Son acaso muy diferentes a nosotros?
Esta exposición es el fruto del encuentro entre la fotógrafa Mariana Lara y los·las estudiantes refugiados/refugiadas y solicitantes de asilo del DILAMI (Dispositivo Lengua Atención Migrantes – Universidad Federal de Tolosa Mediodía-Pirineos).
Ellos/ellas comparten sus historias con nosotros : sus proyectos, sus sensibilidades y sus sueños… todo esto, en francés, el idioma que están aprendiendo y del que se están apropiando.   

Portraits of here, coming from elsewhere
Who are the migrants we hear so much about in the press and political speeches? How do they see the world? What do they feel? How are they? Are they so different from us?
This photo exhibition is the result of the encounter of the photographer Mariana Lara and the refugees and asylum seekers studying within the DILAMI (French Language training for migrants - Dispositif Langue Accueil Migrant·es - Université Fédérale Toulouse Midi-Pyrénées).
They share with us their story, their projects, their sensibilities and their dreams, in this French language they are learning and making their own.

Co-financé à hauteur de 60% par la Région Occitanie, Pyrénées - Méditerranée, il permet aux bénéficiaires la reprise de leur projet d'études et une meilleure intégration dans la société française.